Representational image via Unsplash
News18 India is at an all-time high when it comes to market share. As per the latest BARC data, News18's average market share in the HSM-Urban + Rural Market stands at 14.1% between week 33 and week 36. Others in the top five list in the same category are far behind. Aaj Tak, TV9 Bharatvarsh, India TV and Republic Bharat clocked a market share of 11.8%, 11.5%, 11% and 10.6% respectively in the same period.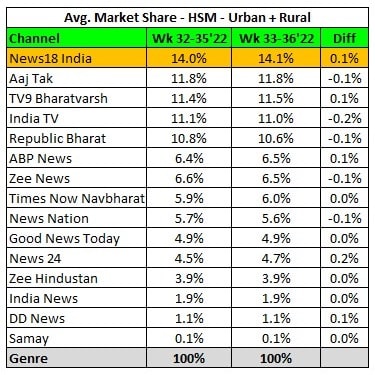 The network's English offering, CNN News18, has also been on a growth trajectory ever since BARC ratings in the news genre resumed in March this year. In the All India (Urban + Rural), AB15+ category, CNN News18 saw a 2.2% jump in their average market share between the periods of week 33-35 and week 33- 36. The channel holds a 33.4% market share, leaving behind Republic TV at 25.9%, Times Now at 22.5% and India Today Television at 10.0%.
While ratings have brought more perspective for marketers interested in the genre, investments in news never stopped, said Jai Lala, Chief Executive Officer, Zenith in a separate interview with Storyboard18 as part of our Media Mavens series. Lala says there is a school of marketer that believes in perception planning but there is another group that swear by GRPs and TRPs.
"It's a complete scientific way of planning. These channels go completely by the BARC data. So basically it is data-driven planning. Either way the good part is investments in news never went off the charts and it continues to be an important genre for advertisers," Lala said.
Lala also highlights the fact that shuffling of rankings have led to change in ad rates too. "Channels that fell from the top ratings had a hard time holding on to the rates they sold inventory for before the blackout period and channels that climbed the chart obviously had new rates," he said.