Britannia Marie Gold My Startup initiative has announced the top ten winners of its 4th Season and awarded them INR 10 Lakhs each to jump-start their business ventures.
Britannia Marie Gold's My Startup initiative is a platform that encourages women to become entrepreneurs, and in turn, become job creators and be financially independent. The initiative has received interest from over 2 million participants this season. The Britannia Marie Gold team has been able to train over 80,000 participants with a business skills' training program.
This year, the shortlisted contestants presented their ideas to an panel of jury members comprising of women entrepreneurs such as Rashmi Daga, Sairee Chahal, Piya Bahadur, Latha Chandramouli and Ruchika Bhuwalka. The jury also included prominent business and media personalities including Senthil Kumar, Amit Bapna, Gaurav Lagathe, Prasad Sangameshwaran and Delshad Irani, along with members from Britannia's leadership team.
Britannia Marie Gold's My Startup program has successfully run for four seasons, providing an ecosystem to budding women'preneurs to get funding and skilling support. Through the 4 years, the Initiative has collaborated with the National Skills Development Council (NSDC) and Google to provide online training on financial literacy, micro entrepreneurial skills and communication skills necessary in a business environment.
One of the highlights of Season 4 is that all participants had access to Google's WomenWill program, a business literacy program with a "how to" curriculum on turning an interest into a business, managing an enterprise, and promoting it for growth. All participants who completed the learning journey were awarded a certificate.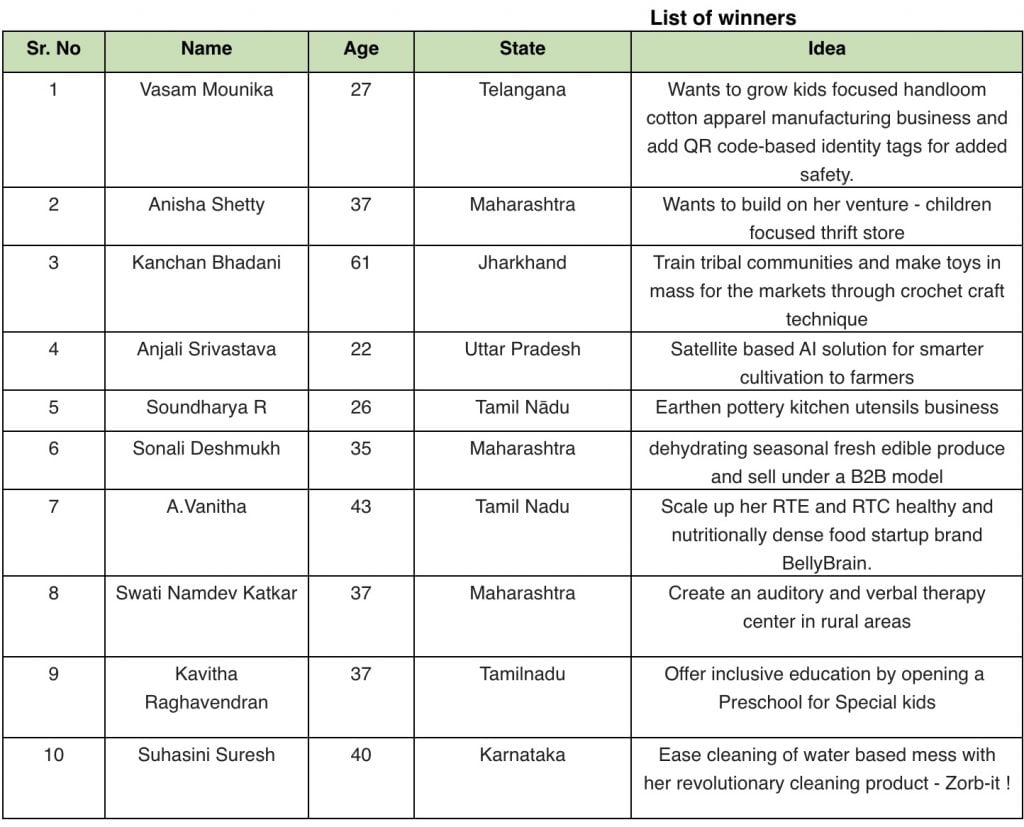 Speaking on the finale of Britannia Marie Gold My Startup contest 4.0, Amit Doshi, chief marketing officer, Britannia Industries Limited said, "Over time, Britannia Marie Gold has established a strong connection with women across the country. According to a World Bank study, only seven out of every hundred entrepreneurs are women. As per the 6th economic census by the Ministry of Statistics and Programme Implementation, women comprise just 13.76% of the total entrepreneurs in India. Our mission with the My Startup program is to steadily and sustainably grow the representation of women in the entrepreneurial ecosystem in India. The program focuses on 3 key requirements of financial assistance, skilling and marketplace access. In Season 4, we garnered interest from over 2 million aspirants from across India, making it the highest number ever. Our winners for this season come from some of the most remote towns and villages in the country and have displayed incredible grit and passion to bring alive their business ideas.  Britannia will play a consultant role and will handhold the winners as they embark on their entrepreneurial journeys".
Shalini Puchalapalli, director of Google customer solutions, Google India, commented on the finale saying, "Technology can help businesses grow — but only if the people who lead and work for those businesses have the right skills. This is especially true for women entrepreneurs across the board - be they small businesses, creators, developers, or start-ups – and the inspiration behind our commitment to support this community in their journeys through our products and platforms, and with skilling programs such as WomenWill. We're delighted to have offered a new community of homepreneurs this specially designed curriculum through Britannia's My Startup Contest for the second successive season and wish all participants success."