Kroll, a provider of global risk and financial advisory solutions, announced today the launch of the eighth edition of its Celebrity Brand Valuation Study titled, Beyond the Mainstream. The study provides a ranking of India's most powerful celebrity brands based on brand values derived from their brand endorsement portfolios and relative social media presence. The overall brand value of the top 25 celebrities in 2022 is estimated at USD 1.6 billion (bn), an increase of 29.1% from 2021.
Key findings of the report include:
Ranveer Singh becomes the most valued celebrity of 2022 with a brand value of USD 181.7 million.
Virat Kohli secured second position with a brand value of USD 176.9 million and Akshay Kumar stays steady at the third position with a brand value of USD 153.6 million.
Allu Arjun and Rashmika Mandanna feature on the top 25 list with brand values of USD 31.4 million and USD 25.3 million, making it the first time for a South Indian celebrity to be featured on the list.
Olympic gold medalist Neeraj Chopra debuted with a brand value of USD 26.5 million at No. 23.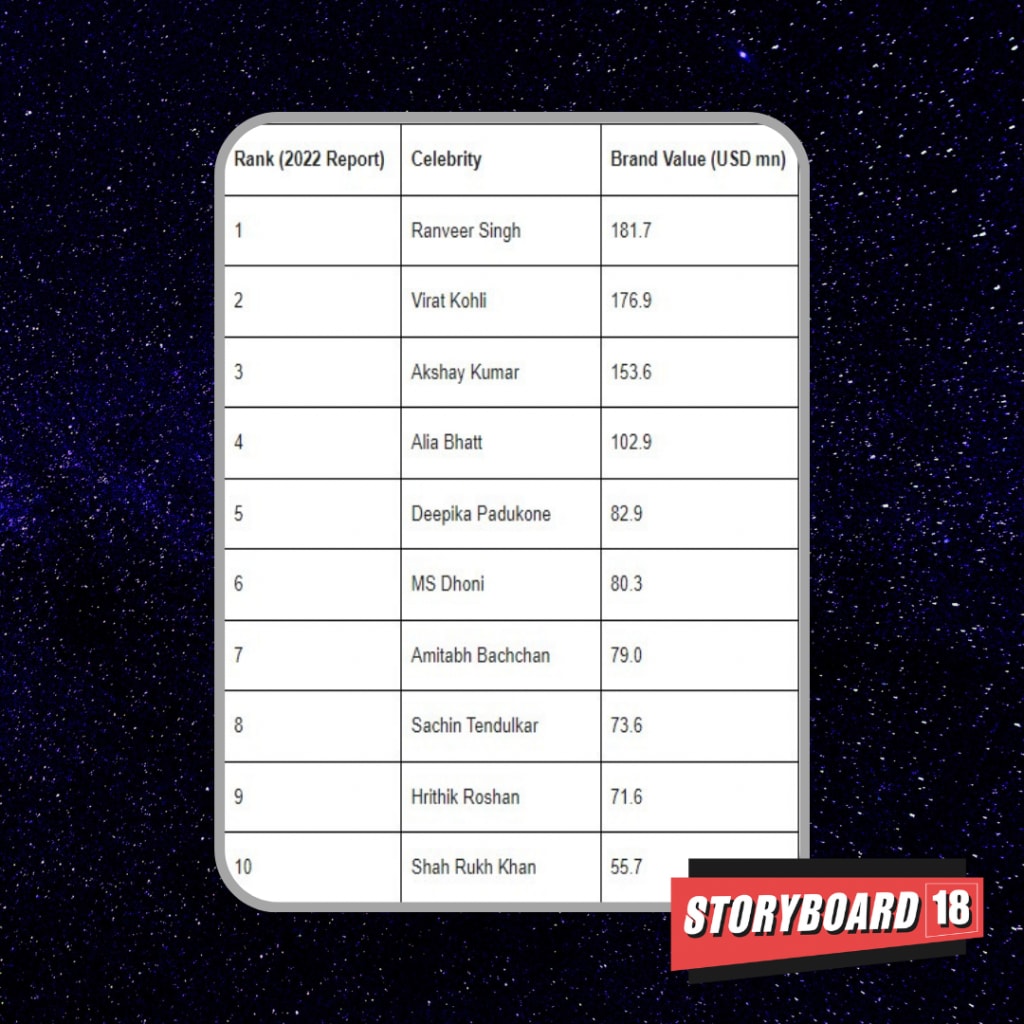 Aviral Jain, managing director, valuation advisory services, Kroll, said: This years theme Beyond the Mainstream is driven by the stupendous rise of South Indian movie stars and sport celebrities. Notable names from the Tollywood industry, Allu Arjun and Rashmika Mandanna, were featured on the list of India's top 25 celebrities along with India's T20 captain Hardik Pandya and Olympic gold medalist Neeraj Chopra. Amongst the Bollywood stars, Ranveer became the most valued celebrity brand in India, given his mammoth endorsement portfolio and widening global presence. Kiara Advani, Kartik Aaryan and Sara Ali Khan were other Bollywood debutants on our top 25 list.
The number of product brand endorsements by the top 20 celebrities increased to 424 in 2022, reflecting a significant increase from 376 product brands in 2021, the report said. This growth can be attributed to the increase in the number of digital endorsements which grew to about 40 percent. Further, this represents a CAGR of 7.8 percent over the last five years growing from 314 product brands in 2018.
Digital advertisements space is expected to grow from USD 2.8 billion in 2021 to USD 4.7 billion in 2023, at a CAGR of 29.5 percent, while the share of television spending is expected to decrease to 38.0 percent by 2023 from the current 41.0 percent.
The top three most advertised brands on digital platforms are upGrad endorsed by Amitabh Bachchan; Spinny endorsed by PV Sindhu and Sachin Tendulkar; and Netflix endorsed by Alia Bhatt, Ayushmann Khurrana and Ranveer Singh.
The top three most advertised brands on television are Harpic endorsed by Akshay Kumar; Lux Soap endorsed by Anushka Sharma, Kareena Kapoor and Virat Kohli; and Maaza endorsed by Amitabh Bachchan