The race to woo the next generation of shoppers is on, with e-commerce platforms Amazon and Myntra actively investing in the Gen Z cohort. Flipkart-backed fashion portal Myntra announced the launch of FWD, an in-platform experience offering additional brands and styles curated for Gen-Z shoppers.
The move comes days after rival Amazon Fashion introduced the 'Next Gen Store,' catering to the unique needs of Gen Z shoppers, who seek to experiment with fashion and have varying preferences in terms of styles, sizes, brands, and fitting.
While Nykaa Fashion has not yet launched a dedicated platform for Gen Z shoppers, it has been onboarding brands that target this cohort. Recently, it added MIXT, which offers streetwear-inspired modern apparel options such as bodysuits, corsets, jumpsuits, jackets, cardigans, and footwear. It brought in Cider, a US-based label, expanding its global offerings to Indian consumers. At 2.56 billion, Gen Z – those born between 1997 and 2013 – as shoppers make up a third of the world's population of 7.4 billion.
Their estimated spending power is in excess of €235 billion, according to BCG. This is exclusive of their parents' spending power because most Gen Zs are still under 18.
This group has a distinct aesthetic that impacts their brand choices, which have been driving fashion trends – crop tops, ribbed dresses, chunky sneakers, and baggy jeans.
Relaxed fits, fluid silhouettes
Ankur Bisen, a consumer and retail analyst at Technopak Advisors, noted that Gen Z shoppers look for customisation and themes that are gender-neutral and more inclusive.
"Men from this cohort do not have any inhibition in wearing a pink T-shirt with a message written on it that signifies their values. This cohort also values pronoun representation; they don't have the baggage of values of the past; they break away from stereotypes, so that also gets reflected in the colours/silhouettes, etc. There is a lot of casualisation as well – for example, baggy and loose fits are back. This also represents their carefree attitude," he added.
E-commerce platforms are taking note of these trends and curating shopping experiences for them. These investments are aligned with the sales data. Recently, a RedSeer Consulting report showed that fashion surpassed electronics to become the single-largest shopping category with a 27 percent share of e-tailing, whereas beauty and personal care, grocery, and home categories are the fastest-growing categories. The report states that Flipkart Group (includes Flipkart, Myntra and Shopsy) has been resilient and maintained its market share at 48 percent in FY23 despite growing competition in recently-and is especially growing 1.6x faster than industry in January to March 2023 quarter.
Amazon Fashion's 'Next Gen Store' has over 200 domestic and global fashion brands and over 1 million products. It offers a mix of fast fashion, sustainable fashion, and affordable styles. The company said it kept the storefront 'quirky' with easy navigation and collections that are in line with current trends.
Saurabh Srivastava, director and head of Amazon Fashion India, told Storyboard18 that Gen Z is actively embracing online shopping solutions like virtual try-ons, outfit builders, and buying guides – all the features available to help make an informed choice.
"To keep up with the ever-evolving preferences and fashion choices of the Gen Z cohort, we plan to refresh and add new styles on a monthly basis. We also have our monthly event, Mega Fashion Days, where customers can shop for Next Gen selection with additional offers like 70 percent off on top fashion and beauty brands," he noted.
Myntra's platform, FWD, claims to have over 65,000 styles and a mix of over 500 popular brands from across the globe, catering to men and women.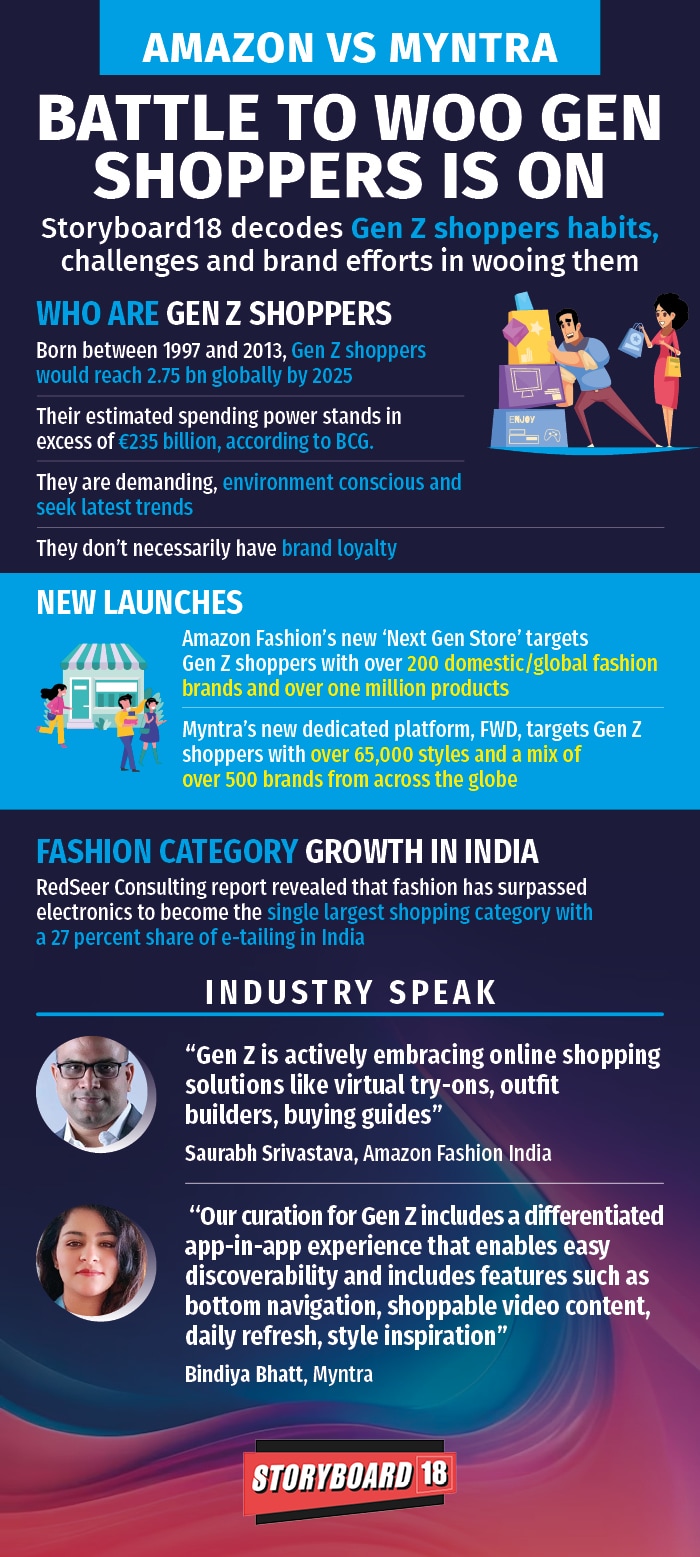 "Our curation for Gen Z includes a differentiated app-in-app experience that enables easy discoverability and includes features such as bottom navigation, shoppable video content, daily refresh, style inspiration, and an ease of spotting to shop through celeb style files and the photo search feature, unlocking a wholesome shopping journey for this customer base," said Bindiya Bhatt, senior director of category management at Myntra.
Influencing Gen Z shoppers
Unlike previous generations, which were heavily influenced by Bollywood and sports celebrities, Gen Z shoppers are more picky about who they follow. Social media influencers have emerged as a significant force in shaping their purchase decisions.
However, there is a catch. This group only follows influencers or celebrities who 'walk the talk' and are more trustworthy.
Myntra's Bhatt pointed out that recommendations and inspiration play a significant role in Gen Z's shopping patterns. She said the company has a "Myntra FWD Fam," which is a group of most-loved and followed creators who create a unique fashion trifecta of the latest trends, a vast selection of brands, and captivating visual content.
"This will see Myntra unlock an influencer army of over 500 Gen Zs, including 15+ CAT-A influencers, relevant creators including Radhika Seth, Aditi Bhatia, Sanket Mehta, and Manav Chhabra, creating excitement and buzz around the proposition across the country. These also include the campus ambassadors, with a deep passion for creating fresh digital content as well," she said. Amazon Fashion has Amazon LIVE and our Fashion Influencer Program (FIP). Under this programme, a network of content creators works on bringing alive fashion styles, styling hacks, and fashion video content to inspire shoppers.
"We have a dedicated team of experienced in-house content creators who work with our extensive influencer network to identify emerging trends and ensure that we highlight what is currently in vogue. We feature these trends not only on our main page but also at smaller product levels, such as makeup, heels, handbags and fashion jewellery," said Srivastava.
There are curated trends for the Gen Z segment on the Next Gen storefront as well, where they can find trend-driven selections tailored to their taste.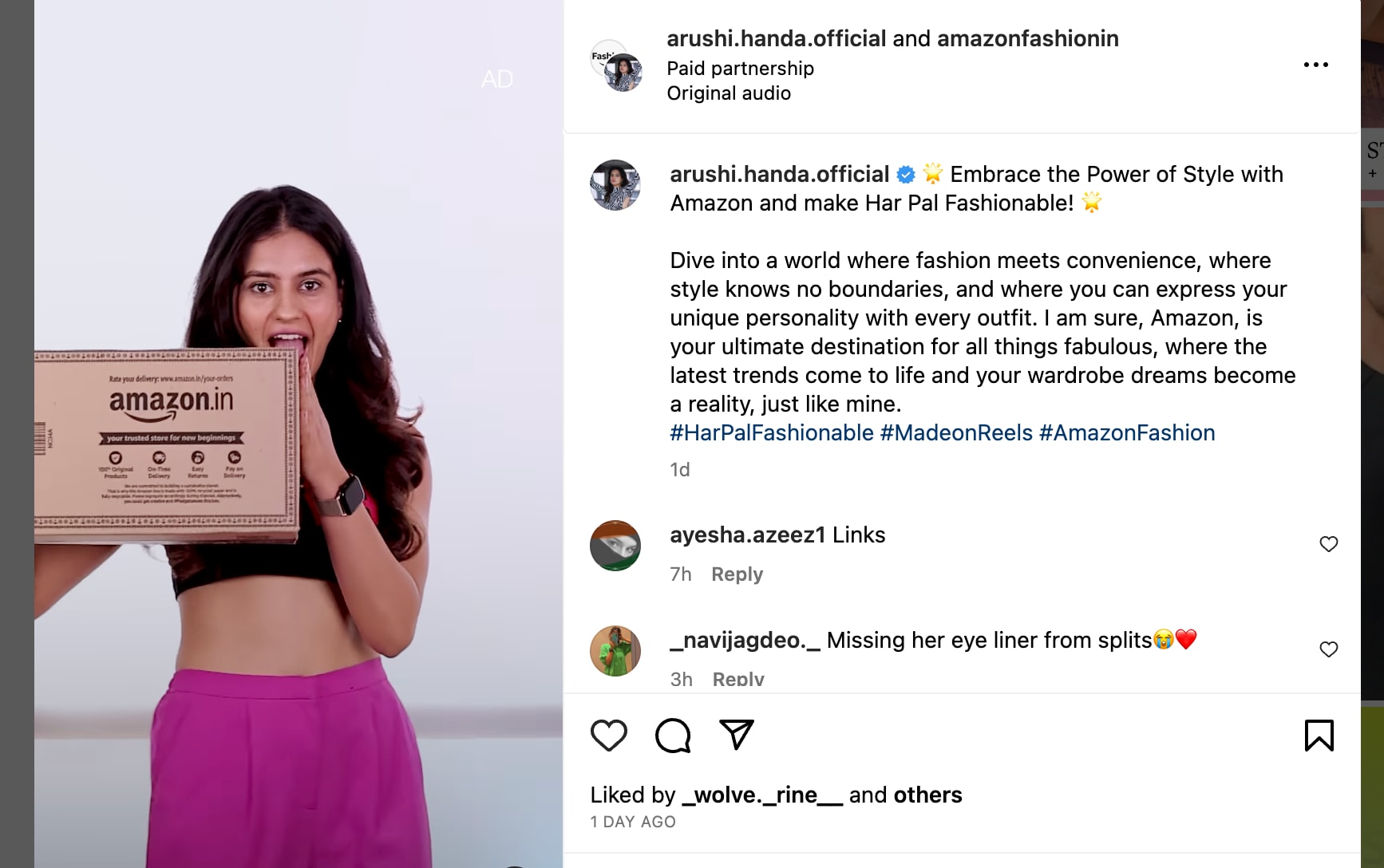 A screenshot of paid influencer collaborations with Amazon Fashion on Instagram.
Challenges and opportunities
Serving Gen Z shoppers is exciting but equally challenging. Just like fashion trends, their choices are ever-changing. These shoppers have high expectations of the brands/e-commerce platforms, often urging them to not only bring the best in fashion but make it ethical too.
Srivastava said Gen Z shoppers are more socially and environmentally conscious than previous generations and they expect e-commerce platforms to reflect these values.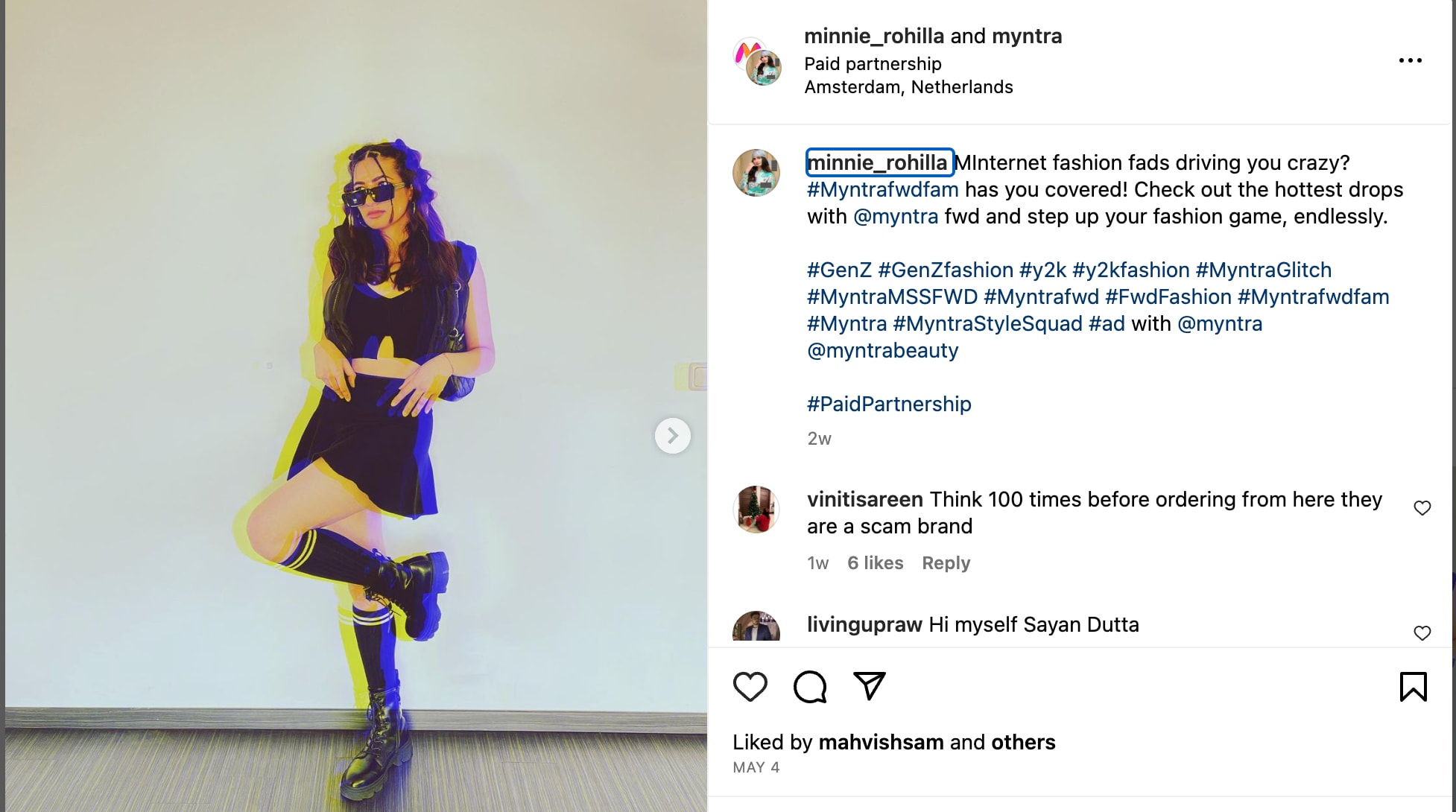 A screenshot of a paid partnership between an influencer and Myntra to promote FWD.
"Platforms need to offer sustainable and ethical options and be transparent about their supply chain and production practices. Hence, we offer a mix of fast fashion, sustainable fashion, affordable styles, and more to provide a holistic shopping experience," he said.
For Gen Z, inclusivity, authenticity, and unconventionalism take centre stage as well, said Myntra's Bhatt. "By embracing these values and catering to their specific needs, businesses can create more meaningful and impactful experiences that resonate with this important and influential demographic," she said.
Technopak Advisors' Bisen had a deeper insight, saying Gen Z shoppers are community-driven and seek better products rather than stay loyal to brands.
"...they are definitely seeking better products than brands and they are also looking at the consumption of fashion through communities. For example, there are communities towards gaming, nature, and even limited edition products. The spin-off from this trend could be the 'sneaker culture' in India and the craze to buy limited edition sneakers that are being sold online. These are some micro trends that one needs to notice," he said.