As the lines between online and offline become increasingly nebulous, retailers and brands are accelerating their journey towards a fully integrated commerce landscape. Commerce media company Criteo is actively assisting Indian businesses in enhancing their marketing strategies and monetisation opportunities in this changing media landscape.
In a chat with Storyboard18, Taranjeet Singh, managing director, enterprise, APAC, Criteo, talks about how retailers have increasingly taken on the role of media owners, exploring and experimenting to scale up and create an ecosystem that supports seamless customer journeys across touchpoints. He also talks about the company's plans for expanding support in India, trends in retail media and much more.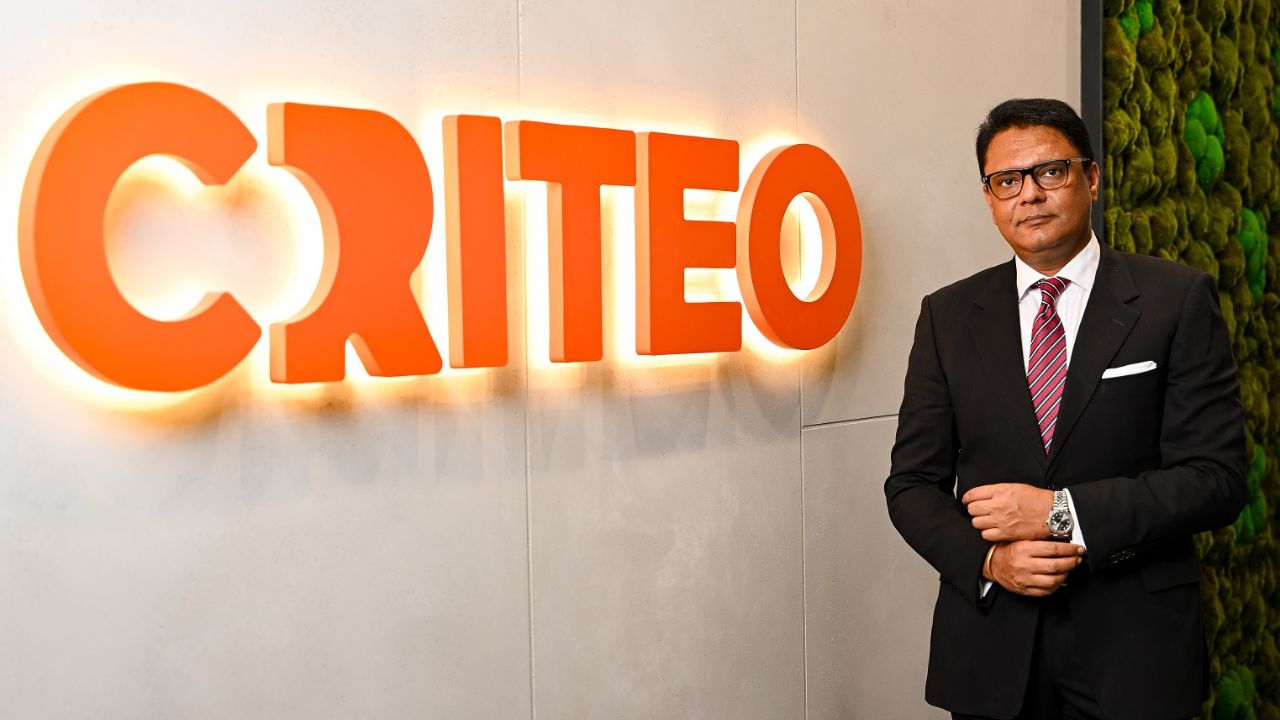 Taranjeet Singh, managing director, enterprise, APAC, Criteo
What is Criteo's take on the rise of retail media networks in India, and what key trends have contributed to this expansion?
Criteo has been closely monitoring the emergence of retail media networks in India, and this trend can be attributed to several key trends that are reshaping the advertising landscape. Firstly, omnichannel is becoming essential—as the intersection of online and offline blur, retailers and brands will need to step on the gas toward a fully integrated commerce future.
There is also a shift of media budgets, where advertisers are allocating more towards the open web and shifting the channels with measurable positive results. Finding audiences with high intent to purchase is the key and retail media marks the emergence of the next essential channel for advertising. Not only the budget, but retailer data is also changing the programmatic paradigm. As retailers and marketers begin to innovate together, retail media networks will be valuable by contributing to in-store sales.
To keep pace with the emergence in retail media, both brands and retailers are enhancing their capabilities to elevate the customer experience through innovative ad formats and data-driven marketing analytics.
Retailers have increasingly taken on the role of media owners, exploring and experimenting to scale up and create an ecosystem that supports seamless customer journeys across all touchpoints. There is also a growing industrywide drive to standardise retail media measurements, with collaborative efforts aimed at this goal. In the Asia-Pacific (APAC) region, the presence of marketplaces adds another layer to the evolving retail media landscape. Marketplaces and retail media are working to provide enhanced value propositions for their audiences, reflecting the dynamic and innovation-driven nature of this expanding domain.
Can you elaborate on the new media opportunities that retailers are leveraging to drive monetisation, and how Criteo plays a role in this?
In the evolving Indian market, retailers are actively seeking new avenues to boost monetisation amidst macroeconomic challenges. Efficiently acquiring new customers has become a top priority as every ad dollar holds heightened significance.
While Amazon holds 7.3 percent of the overall online ad market, most other retailers in the market hold less than 1 percent market share. This disparity signifies substantial untapped opportunities within the Indian market. In response, Criteo has transformed as a commerce media company, which powers marketers and media owners to drive better commerce outcomes. Recently in India, we've launched a video advertising solution powered by AI and the massive commerce signals.
Our video advertising approach is distinguished by its performance capabilities, encompassing various touchpoints and leveraging audience-first ad solutions like in-stream and out-stream video, mobile app, web traffic, consideration and retargeting. By continuing to provide impactful solutions, Criteo is actively assisting Indian businesses in enhancing their holistic marketing strategies and monetisation opportunities in this dynamic media landscape.
How important is India as a market for Criteo compared to other markets and why?
India is a strategic market for Criteo due to its remarkable growth potential. According to (market research firm) eMarketer (now renamed Insider Intelligence), India is projected to witness a staggering 11 percent growth in retail sales, making it the world's fastest-growing market in 2023. This exponential growth signifies a vast and compelling opportunity for our operations.
A significant trend in the Indian market is the substantial influence of large commerce retail platforms in media planning and advertising decisions. Marketers are increasingly striving to craft comprehensive, full-funnel advertising strategies to maximise their investments and foster brand preference throughout the consumer journey.
Consequently, we collaborate across various key sectors in India, including e-commerce, retail, travel, classifieds, and so on, and notably our strategic partnership with Flipkart further accelerates and utilises Criteo's commerce media capability. As India's market evolves, our focus on commerce media strategies including a holistic omnichannel monetisation solution becomes even more appealing, given Indian consumers' preferences to shop at brick-and-mortar locations despite strong e-commerce growth in the country. This approach positions us to facilitate more meaningful engagements and provide extensive support to retailers, aligning perfectly with our vision for India's dynamic and rapidly growing market.
From an advertiser's perspective, what specific benefits can they expect to gain from utilising retail media, and how does Criteo facilitate this?
When it comes to the benefits that advertisers can expect from utilising retail media, the crux lies in harnessing the invaluable first-party data that retailers possess about their customers. This data spans a spectrum, from understanding customer browsing behaviour to gauging purchase intent and actual transactions. This profound insight ensures that customers are not inundated with advertisements for products they've already acquired, reflecting a retailer's commitment to personalising the customer experience.
Effective personalisation yields multifaceted success, benefiting both retailers and their merchants. Maintaining the integrity of merchants' content is paramount, given that the end customers ultimately belong to them. It's imperative that the purchase cycle remains smooth and uninterrupted, and this is where Criteo plays a pivotal role. By diligently fulfilling our responsibilities in collaboration with retailers, we ensure the continuity of the purchase cycle, making our contributions integral to the seamless progression of the overall process.
In what ways do retail media, especially through Criteo's solutions, enhance the overall shopper experience for Indian consumers?
We always keep consumers at the centre of everything we do, to bring richer experiences to every customer by supporting a fair and open internet that enables discovery, innovation and choice. As a result, they enjoy better shopping experiences that they control with trusted marketers and media owners, while continuing to be able to access high-quality content.
Consumers today also want a seamless shopping experience that bridges online and in-store interactions. To this end, Criteo has acquired Brandcrush, an Australia-based company whose platform enables the buying and selling of omnichannel retail media, including offline media channels. With this acquisition, Criteo will be able to provide a holistic omnichannel monetisation solution globally for retailers to manage their entire media inventory across both e-commerce and physical retail while enabling consumers to enjoy a seamless and consistent shopping journey. Brandcrush directly addresses the current market need for consolidated offline and online advertising management, and our combined solutions will make omnichannel retail media strategies a reality.
How does Criteo envision retail media evolving in India?
Our vision of retail media revolves around fostering seamless integration and eliminating fragmentation. Many retailers still rely on manual approaches for shopper interactions, and we believe we've only just begun to tap into the immense possibilities. This is why even prominent retailers not yet in our network express interest in collaboration. They acknowledge our industry leadership and the potential for fruitful partnerships in this rapidly evolving landscape.
What are your plans for the India market? How much investments will be made in India in the next two years?
As mentioned, India is a strategic and important market for Criteo for its growth potential and we are excited to be a part of this rapidly evolving landscape. Recently, we successfully hosted the first Criteo event, "Criteo Commerce Forum", in Mumbai with the industry's top speakers and influencers. We were very excited to welcome our partners and showcase for them the full power of commerce media and our cutting-edge solutions, and hope to continue the momentum in the coming years. As more and more Indians turn to digital channels for their shopping needs, it is crucial for brands and retailers to have a strong presence in the commerce media space.
We are also expanding platform support and campaign management capabilities to service commerce media platform rollout in India, as well as APAC, Americas and EMEA (Europe, Middle East and Africa).