Business and employment focused social media platform and a B2B advertising platform LinkedIn conducted a research. The research found that more than eight in 10 B2B marketing leaders in India anticipate growth in their marketing budgets over the next year. Furthermore, 87 percent have expressed their plans to increase the use of Generative AI to improve efficiency and create engaging content.
LinkedIn's 'The B2B Marketing Benchmark' – a study of nearly 2,000 senior B2B marketing and finance leaders from organisations across the globe, was conducted ahead of the 2023 Cannes Lions International Festival of Creativity. The study found that B2B marketers have adapted to uncertainty and made the right investments to come out stronger.
Financial fluency' investment pays off as brand building rises in importance
As B2B brands see some green shoots of recovery, 70 percent of B2B CMOs say brand building has been elevated in importance by the C-suite as companies look to win share in the current climate.
Becoming 'financially fluent' has been key to this with B2B CMOs saying they have learnt the language of finance (74 percent) and strengthened their skills to prove the value of brand marketing to their CEO and CFO (88 percent).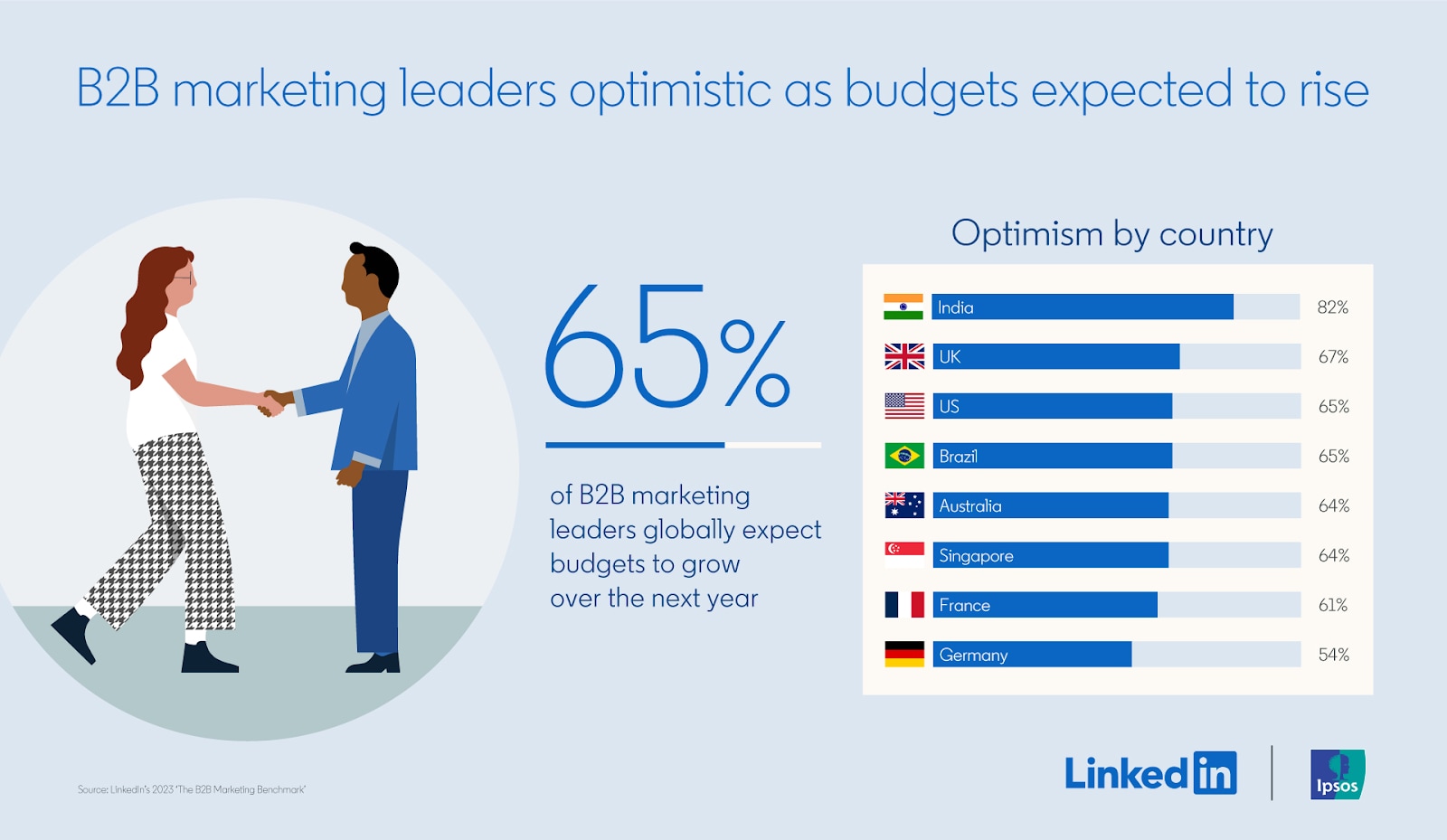 LinkedIn - Data chart
B2B marketers have the support of the business - 50 percent of CFOs from B2B organisations in India feel optimistic in marketing's ability to drive revenue in the year ahead.
This year, one of the top priorities for 51 percent of India's B2B marketing leaders is to champion bolder creativity in their campaigns to improve mental availability. Seventy-nine percent of B2B marketing leaders are confident they have the right creative skills on their team to support brand building efforts.
LinkedIn data shows there has been a 46 percent increase in creative skills added to the LinkedIn profiles of marketers across the globe in the last year. Creative strategy, innovative thinking, problem solving, as well as marketing technology and data analytics top the list of the most important skills B2B marketers in India need today.
Ashutosh Gupta, India country manager, LinkedIn, said, "B2B marketers have expertly navigated economic uncertainty by acquiring greater financial acumen and sharpening their skills to help their CFOs and business leaders recognise the importance of brand building in staying top of mind in a complex macroeconomic environment. Capitalising on this trust, marketers are also increasing their investments in generative AI to become more efficient and inject more creativity in their campaigns. Looking ahead, CMOs will play a more direct role in driving revenue and expansion, and with the strategic investments they have made, they are now poised to build memorable, best-in-class B2B brands to power the next wave of growth."
Antonia Wade, global chief marketing officer at PWC, said, "It's great to see B2B leaders continue to show that marketing is a real driver of commercial growth for their companies. This is underpinned by a unique combination of resilience and creativity that their teams display, including embracing new technologies. We are in a golden era of B2B marketing, and the optimism that businesses have in marketing's ability to innovate, create relevant messages at scale and deliver outstanding financial returns is all evidence of that."