Note to readers: Our latest column Marketing Mocktail breaks down and explains the big ideas, new disruptions and old concepts and marketing practices that matter in the modern age.
People buy on emotion and justify with reason.
When consumers emotionally connect with a brand, it's like connecting with a person. It is based on a chemistry or vibe and not a SWOT analysis of the brand.
The emotional connection can be assessed based on the 'Brand-User Relationship - what type of relationships do consumers have with your brand?
Brand-User Relationship Grid
There are 15 different types of brand-user relationships.
When mapped on two dimensions - brand affinity (emotional connection with the brand) and brand loyalty (stickiness to the brand), this is what the relationships look like: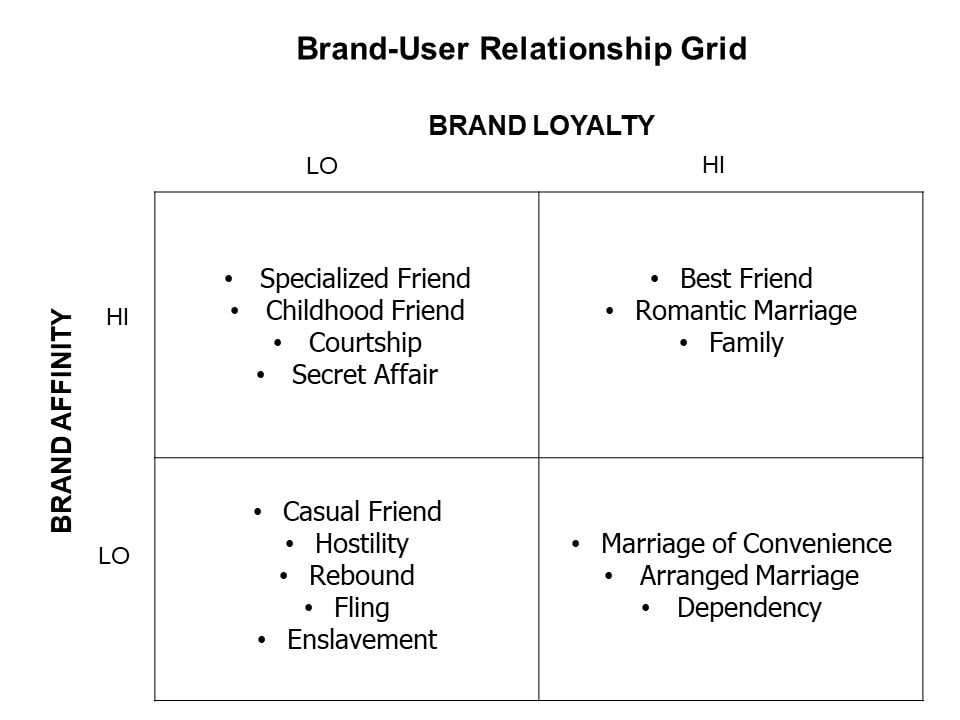 Brand-User Relationship Grid
Remember, the same brand could have different relationships with different users. It is important to note what relationship the majority of the consumers have with the brand.
Let us examine each of these relationships based on the grid.
High Brand Affinity - High Brand Loyalty
Voluntary and based on reciprocity. Characterised by true self, honesty and intimacy, with common personal interests.
"My Nikes are my jogging companion - my best friend. We hang out every morning and keep pushing each other, and our timing is getting better and better."
Exclusive commitment, high on love, intimacy and trust. Together through the ups and downs of life.
"For me, it's Apple or nothing else. I don't even bother to check out any other device. For the past ten years, Apple has been a part of my work and life."
Strong lineage ties and support. A sense of belonging, comfort and security.
"Colgate is a part of my family. My parents use it and so do I. Once when I stayed over at a friend's place and there was no Colgate, I felt lost. It was as though I hadn't brushed."
High Brand Affinity-Low Brand Loyalty
Highly specialised, situation confined or socially rewarding. Lower intimacy than other friendships.
"I carry my Louis Vuitton handbag only for special occasions. It's too pricey to carry around every day."
Infrequent engagement, reminiscent of earlier times. Provides comfort and nostalgia.
"My daughter drinks Horlicks every day. I also used to do that as a kid. Occasionally, I share a mug with my daughter, and it brings back my childhood."
Interim state, on the road to a committed partnership - checking it out.
"A few months ago I had a bad experience with Airtel's network, so I started using Jio. So far so good, I hope to stay with it."
Highly passionate, privately held. Considered risky if exposed.
"Ever since I turned 50, I have started using Viagra. Obviously, I don't tell that to my partners."
Low Brand Affinity-High Brand Loyalty
Not a deliberate choice – influenced by the environment. Low level of commitment.
"The resort where I went on vacation was serving only Tuborg and I had it, although my preferred brand is Kingfisher."
Intended for the long term with exclusive commitment, but low emotional involvement.
"I also use Pantene shampoo because my wife uses it and there is no point buying another brand, just for me."
Feeling of not being replaceable and separation causes anxiety. Something that becomes habitual, and you can't do without.
"I suffer often from acidity and always keep Eno handy for relief. If Eno is not there, it makes me anxious."
Low Brand Affinity-Low Brand Loyalty
Infrequent engagement with low emotional involvement and intimacy. Often short lived.
"I rarely eat chips. When I do, I mostly have Lays."
Intensely negative emotions, with the objective to cause pain.
"I am so upset with the poor and rude service of this bank, that I have closed my account. I have started sharing my bad experience on social media."
Drawn by the desire to leave something, rather than attraction to another option.
"I was so hassled when Ola overcharged me that I now only book Uber."
Short term, high returns and zero commitment.
"I always use Dove. Last month, when I saw a free trial offer from this new D2C brand I tried it. But now I have gone back to Dove."
Persists because of circumstances and involves negative feelings of being trapped.
"I only cook in Saffola, but during Covid-19, it was not available. So I had to use other oils. I really felt helpless."
How to apply Brand-User Relationships
Understand the types of relationships that your users have with the brand through qualitative research and ask the following questions:
• What are the current relationships of your brand with its users?
• Are they strong enough to drive brand affinity and loyalty? (In the context of your category and brand)
• If not, what do you want them to be?
• What steps will you take to get there?
Brand-user relationships are a great tool to understand the context of your brand's connection with its users and help create affinity and loyalty.
Strong and long-lasting relationships happen when brands put in the same effort to keep you, as they did to win you.
Anand Narasimha is a corporate turned academician with over three decades of experience spanning brand marketing, advertising, consulting and teaching. He writes the column Marketing Mocktail for Storyboard18. Views expressed are personal.