Indian e-commerce major Flipkart has secured a prime spot on a prominent billboard in the heart of Times Square, ensuring maximum visibility for their Big EOSS (end of season sale). While this move is a sign of Flipkart's global ambitions and its commitment to multi-channel marketing, they are not the first Indian brand to make a splash in Times Square.
In recent years, other Indian brands such as Laxmi, Pepper Content, and Mohun Bagan Football Club have also advertised in the iconic location. As Indian businesses expand their global footprint, they are increasingly using multi-channel marketing strategies to reach a wider audience and Times Square is the hottest new addition to their out of home advertising itinerary.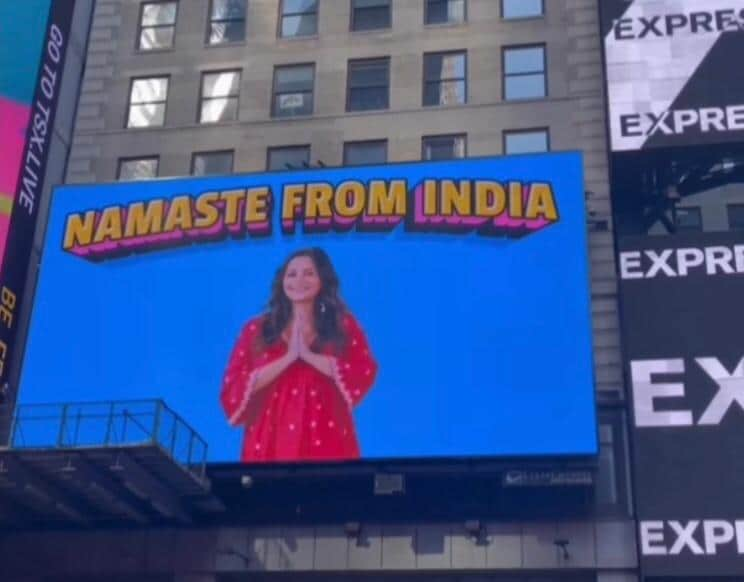 Flipkart on Times Square billboard. (Image source: Instagram - flipkartlifestyle)
Times Square is a major traffic hub, with 380,000 pedestrians and 115,000 drivers/passengers passing through each day. However, the real reach of a Times Square billboard comes when a photo of it goes viral on social media. There are 238 billboards in Times Square, and each one has the potential to reach millions of people around the world.
As per New York based outdoor advertising company Inspiria, despite occupying just 0.1 percent of the city's land area, it generates close to 10 percent of the entire city's economic output. Every year, about 174 million people visit Times Square's iconic Bowtie area and nearly 47 percent of visitors continue to share their Times Square adventures on social media, amplifying its influence even further.
In an earlier interaction with Storyboard18, Imtiyaz Vilatra, country head at Posterscope India had said that the chance of a brand not getting noticed is minimal to none at Times Square. The space primarily helps in building brand awareness, brand recognition and repetition. Posterscope has helped a lot of Indian brands like ICICI Prudential and others advertise on premium Times Square spots.
According to Vilatra, Times Square billboards can be expected to receive nearly 1.5 million impressions each day. With tourists frequently capturing photos and selfies for social media, Vilatra points out that ads garner a substantial number of additional impressions beyond the viewership within Times Square.
The cost of advertising in Times Square varies depending on a number of factors, including the media format, the size of the billboard, the location, and the duration of the campaign. Advertising in Times Square can cost anywhere from $5,000 to $50,000 per day. This is equivalent to Rs3.9 lakh to Rs40 lakh in Indian rupees. For comparison, the rates for DOOH (Digital Out of Home) advertising in India start at about Rs 5,000 per month in rural areas and can go up to Rs 20 lakh per month for billboards in busy urban streets.
Experts suggest that advertising in Times Square makes sense for brands that are targeting a global audience, trying to break into new markets outside of India, or targeting the Indian diaspora in the west.
For example, Laxmi, a South Asian food brand in the United States, took out a billboard in Times Square as part of their Diwali campaign. This was a strategic move, as Diwali is one of the most important holidays in the Hindu calendar and is celebrated by millions of people around the world. By advertising in Times Square, Laxmi was able to reach a large audience of potential customers who were already interested in South Asian food.
Another example is Chingari, a short-video sharing social media app. Chingari took out a billboard in Times Square as part of their NFT conference program. This was a way for Chingari to promote their app and their NFT conference to a global audience.
There are also some Indian brands that use Times Square to celebrate their milestones. For example, Classplus, an edtech startup, took out a billboard in Times Square to celebrate their four-year anniversary. This was a way for Classplus to thank their customers and employees for their support.