Feminine hygiene startup Sirona Hygiene is the latest victim of a smear campaign. Deep Bajaj, co-founder and CEO of the femtech startup, took to LinkedIn to highlight how a new product from his company received a slew of negative reviews within hours of being launched.
"While we are all for constructive criticism - there was something missing on this as the pace at which these reviews came (overnight) was unprecedented & abnormal! With a basic investigation we found that it's the staff of one of our competitor brands doing this. While in the past we have seen many tactics by our copycats / competitor brands - this was a new low and a learning too," Bajaj said on LinkedIn.
Storyboard18 reached out to Bajaj to dig deeper into the development. He explained that while only four people have actually bought the newly launched product, there were already 10-12 negative reviews put out there.
"It wasn't just adding up. Once we started investigating then we realised what was transpiring," he shared.
"Recently, we have started seeing a pattern in negative reviews where customers are not responding when we reach out to them. We are thinking about options available to tackle it," he added.
Sirona Hygiene joins the likes of e-commerce company Meesho and online travel site EaseMyTrip that were also targeted through smear campaigns.
In June 2022, e-commerce company Meesho said it had sent legal notices to select social media influencers and certain people in contact with them for allegedly running smear campaigns against the company. These influencers were allegedly posting negative content about the company and tagging their investors.
Online travel company EaseMyTrip also said that multiple Twitter accounts commented on the company's posts on the social media channel, alleging that the travel portal "stole money" from them. The company said that it is looking to take the legal route against these accounts and individuals.
Apart from firms, even venture capital firms such as Sequoia Capital, which backs startups including Bira, Blinkit and Byju's, have been attacked by "trolls".
Bajaj pointed out that direct-to-consumers (D2C) brands are exceptionally vulnerable to such attacks. He explained that there are two ways to do it. One is writing negative reviews after buying products from platforms that only allow reviews after the purchase or two, simply giving reviews where buying the product is not required.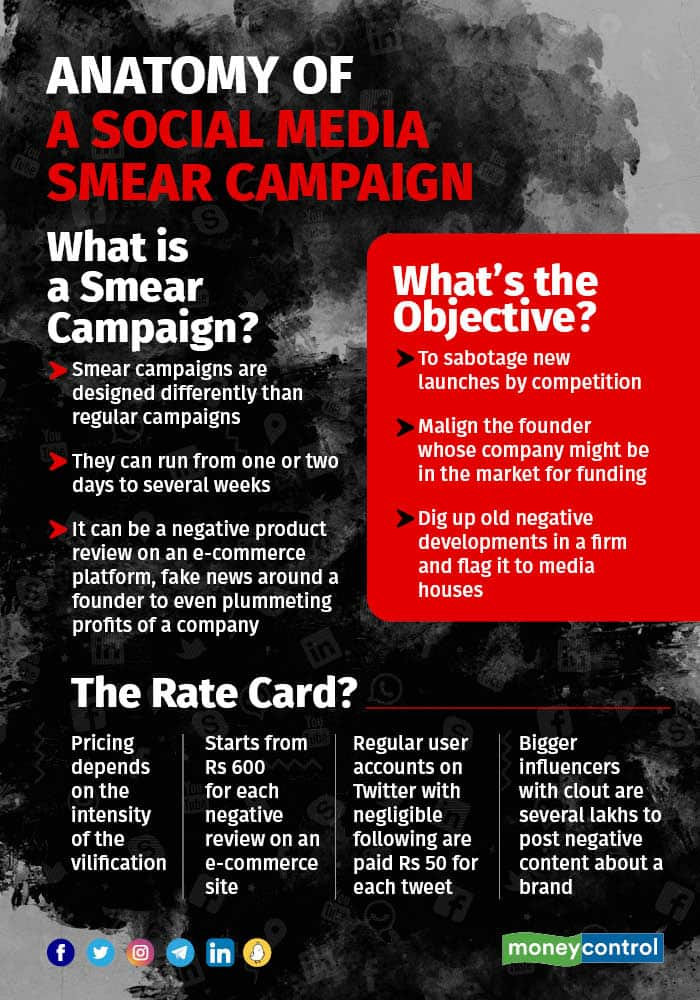 "There are players that could just simply deploy people or hire agencies to write trash about products. Categories (fashion, beauty or footwear) where products are returnable are at a higher risk because people can buy and write negative reviews then return the products. In personal care, the only loss is the cost of the product. The reviews are the reason that could make a product trend online and influences a customer's decision to buy," he added.
Sirona Hygiene has earlier dealt with negative customer feedback after a slew of counterfeit or knock-off products started selling on various e-commerce platforms including Amazon, Snapdeal and Meesho. This hurt Sirona badly because customers were buying the counterfeit products and ended up mistakenly reviewing them as being from Sirona. The company moved Delhi High Court and got a favourable ruling in the case where all the third-party e-commerce platforms were asked to take down counterfeit products.
"In the case of PeeBuddy (disposable female urination device), people would change the name of the brand and sell it. We have taken action against it. However, this trend of intentionally planting fake reviews is so below the belt and we are still trying to figure out how to deal with it," Bajaj shared.
Well-planned smear strategy
Digital marketing experts that Storyboard18 spoke to highlighted that smear campaigns are designed differently and can run from one or two days to several weeks. It can be as simple as a negative product review on an e-commerce platform, or fake news around a founder to even plummeting profits of a company. The objective of such campaigns is primarily to sabotage new launches, or even to simply malign the founder.
Experts note that there are various aberrations that are thrown up, like, for instance, when one notices that there are an unrealistic number of negative reviews of a product, mentions on digital platforms, the numbers don't match or there are sudden mentions of the brand in a negative light.
Smear campaigns are done using somebody else's media so it could be placing a paid article in a news media outlet or paying an influencer to post something negative on their account. Such campaigns are also done by a chain of parties so it can't be easily traced to one person or an agency.
Making of a smear campaign
The first tell-tale sign of a possible smear campaign is a sudden jump in the number of mentions of brands online and that too out of the blue, says Shradha Agarwal, CEO and co-founder, Grapes.
According to experts, the topic decides the length of a smear campaign. A campaign can go on for a long time if a product/service needs to be tarnished. On the other hand, in the case of a founder, it can be for a few days only.
Pricing depends on the intensity of the vilification and can start from Rs 600 for each negative review on an e-commerce site or a tweet. While user accounts on Twitter with a negligible following would be paid Rs 50 for each tweet, bigger influencers with clout can be paid several lakhs to post negative content about a brand, according to industry estimates.